Saturday, September 29th, 2007
---
9:38 am
- Vangelis #1 and Vangelis #2 to show at Radcon film fest!
Saturday, August 18th, 2007
---
11:57 pm
- CHERUB news: The negative post was NOT MINE!- updated
Sunday, August 12th, 2007
---
11:57 am
- New life for Vangelis?
Sunday, June 24th, 2007
---
9:46 am
- Finally...Pilot Episode One on Youtube!!!
Here it is.... hope you all enjoy. We tried.

Part Two...

Part Three...

Saturday, June 23rd, 2007
---
8:21 am
- And the word is....
No.
Vangelis was rejected by the San Diego Comic Convention.

*sigh*.
Monday, May 14th, 2007
---
3:29 pm
- Waiting for word on San DIego Comic-con...still....edited
Saturday, April 14th, 2007
---
1:18 am
- Progress (?) Report and a pic for fun
Hey everyone,
Still waiting to hear from San Diego Comicon, should hear in May about whether or not that will happen. Vangelis I'm targeting only SDCC and (possibly) Cinequest, the local filmfest... then it's youtube!

In the meantime, speaking of SDCC, here is a little Buffy/Angel doodle I submitted to the program book, hopefully they like it enough to include it. If not, here's a little preview, hope y'all like: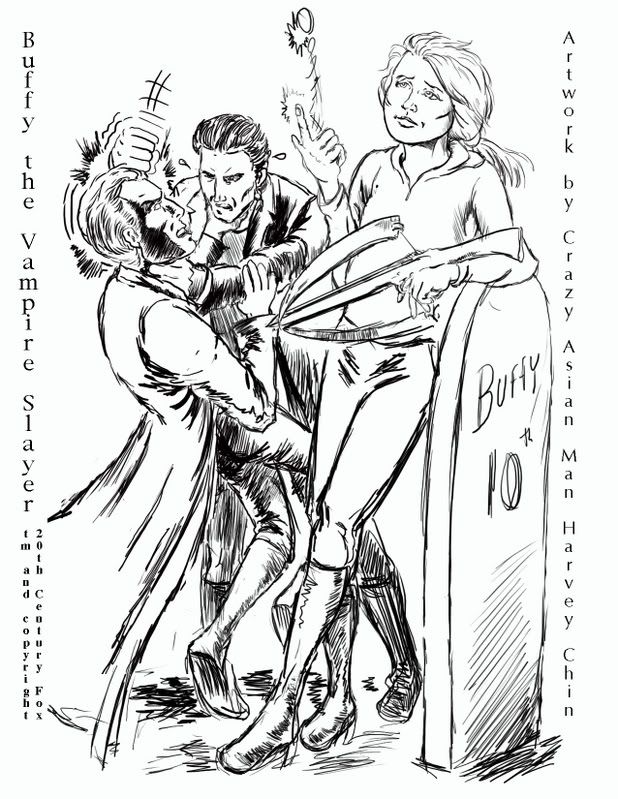 Until next time...
HC
Wednesday, April 4th, 2007
---
5:19 pm
- Testing youtube link, that's all...
Hey all,
Sorry for the delay in postings. The plus side to May being the date to hear whether or not SDCC has accepted the film, forces me to finally get started on the 'videoblogs' of the up and down rollercoaster ride of making "Vangelis. Until then, here's a test of embedding the trailer that everyone who's interested has probably seen by now...

thx
HC
Friday, February 23rd, 2007
---
10:26 am
- Last weekend, FINALLY nearing the end..!
Thursday, January 18th, 2007
---
7:37 am
- The long-neglected livejournal of vangelis film... quickee recap of history
Monday, November 20th, 2006
---
2:48 am
- wikipedia deletes Vangelis from history
Apparently, some soul at Wikipedia decided that the Vangelis and Muffin article be eliminated from wiki human history, because it is "not newsworthy enough of a fan film".

Ow!
O well....
Thursday, September 28th, 2006
---
7:35 am
- Saluting Cherub
Tuesday, September 5th, 2006
---
7:37 pm
- Reminders
Sunday, September 3rd, 2006
---
3:01 pm
- New "Muffin" entry in Wikipedia - thanks paxomen! :)
http://en.wikipedia.org/wiki/Vangelis_%28Buffyverse%29#Muffin_the_Turtle_Killer_2
Extreme thanks to paxo men for the hard work on this and Vangelis wiki and for the other fan films at wiki as well!

Apologies for the lack of updates this year, will be better from now on. Many other whedonesque projects actually have been priming and will release here in addition to Vangelis, that I can't talk about yet. (Ok, one phrase hint: Got Faith?) ;)
Saturday, September 2nd, 2006
---
4:12 pm
- "Muffin" grand finale
Monday, August 28th, 2006
---
7:54 am
- New stuff
Saturday, August 19th, 2006
---
10:16 am
- what? another vampire fan film?
Wednesday, July 26th, 2006
---
7:01 pm
- Wikipedia! Second Season Cherub! Trailer hits 5k!
Hello everyone who's still around! ; )
Life committments have dragged updates to a complete standstill--- hopefully things will let up after next weekend!
Anyhow, a couple of cool (for us!) things:

* "Vangelis" is now an entry in Wikipedia thanks to a kind supportive researcher (who I'm not sure if that person wants to be named or not, so that's why I'm not mentioning names) who found us on youtube and approached me about an article. Thanks!

* "Cherub" is going strong with its second season, with even higher production levels than the first season. Good show and continued success! : )
http://www.cautionzero.net/cherub/

* "Vangelis" the trailer tonight around 8pmish California time (which may or may not be reliable thanks to all these power outages caused by the heat caused by global warming lately!).... broke the 5,000 hits mark. That feels nice, thanks to all for checking it out!

More soon in August!
Best,
HC
Sunday, June 11th, 2006
---
7:45 am
- Vangelis films banned in the US
Monday, June 5th, 2006
---
11:28 pm
- Congrats to Cherub and others in WiredNews